3 Ways to shop with us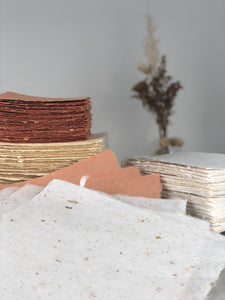 Ready - to - Ship
This is the place to shop for smaller packets of our beautiful handmade paper. We try our hardest to do a monthly restock with selections from our growing list of colors, weights and sizes. The perfect way to try our products out.
Shop Here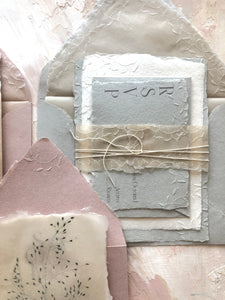 Custom Orders Just For You
Need a custom paper or paper and printing order for your wedding or your client? We got your back my friend! Choose your colors, sizes and printing methods and we'll prepare a custom quote for you. Feel free to submit your request below.
Submit Your Request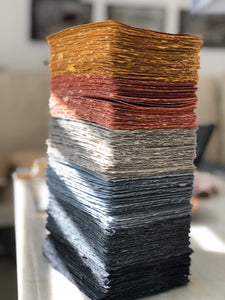 PRESSED Wholesale Club (PWC)
Are you a business owner that would like discounted pricing on our paper and printing? You're invited to apply for a PWC membership below. We believe in building long-lasting relationships and supporting the creative community every way we can!
Join Here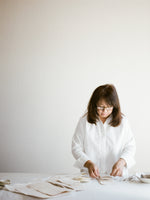 Hi, I'm Sharon!
I'm the artist behind PRESSED and here to support your business with the highest quality handmade paper and printing services anyone could wish for. I'm passionate about my craft and even more passionate about my family! Grab a cup of coffee (or two!) and enjoy browsing our current offerings. Be sure to check back often as we continue to grow our collection!
Big Hugs!
Read More About What Makes Us Unique
Did someone say samples?
I've heard your requests for samples so here is the *NEW* Sample Deck with all of my current colors.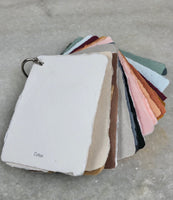 WHAT My CLIENTS ARE SAYING
I have worked with many vendors over the years and Sharon is easily one of the kindest and best to work with.   She is always prompt with her communication and her customer service is excellent.  Sharon's paper is simply wonderful and is made with the utmost care and highest quality craftsmanship.  The handmade sheets are extra luxe for letterpress printing and the delicate tissue is a favorite of mine to add texture to our invitation suites.  READ MORE

Jenny Sanders
Sharon's paper is not only gorgeous, her customer service is wonderful, AND her product is quite literally THE BEST handmade paper that I have written on.  It takes ink so well, and a pointed nib glides over it so well.  READ MORE

Joi Hunt
The paper is absolutely stunning. The texture is so beautiful, the colors are lovely, and the deckled edges are so fluffy and gorgeous - it's very clear that each sheet is made by hand instead of being torn, which I love!  I very much look forward to working with you in the future!  READ MORE

Esther Clark
My path to PRESSED
My brand took a beautiful turn once I dove deep in the handmade paper and printing world. It seemed only natural my company name evolve as well. So how did we land on PRESSED paper + print?
During all my years working in the corporate world, I always felt my heart being pulled toward creativity. I wanted to make something beautiful and full of love for others to enjoy. I explored several creative ventures (I am also a sewist, a metal smith, a glass blower, a jeweler, and a calligrapher), all of which I really enjoyed. I finally found my niche in handmade paper and custom printing when a sweet bride had a seemingly impossible task. She requested a beautiful color of handmade paper that I could not, for the life of me, find! I decided to try and make it myself. Not only was the bride thrilled, my heart was instantly filled with joy. I literally pressed on until I found what my heart wanted to do all along. It was really important to me that the evolution of our brand reflected my story in some capacity. Mix that with the fact that our paper and printing processes both require being pressed in some form and there you have it. PRESSED was born!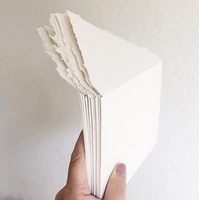 Want to be the first to know when I restock the bins?
Join the mailing list to receive promotions, announcements, and inspirations from my studio.